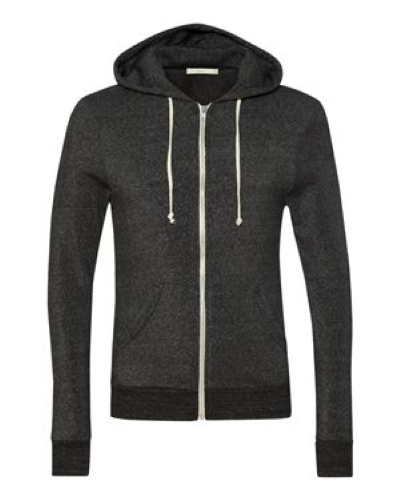 Alternative Apparel "Rocky" Super Soft & Lightweight Zip Hoodie – 9590
Color:
Pricing
---
*Note that pricing is estimated and needs to be confirmed after reviewing your art. CA residents pay sales tax and shipping costs are added unless you pick-up from us. Pricing per shirt is a bit higher for 2XL sizes and above.
Description
---
This hoody from Alternative Apparel may be the softest hoody that we are aware of in the known universe. It is quite lightweight, so if you are looking for standard or extra warmth this may not be your best pick. If you want your group members to love you forever this may be a good choice. It is also made of a durable triblend (50% polyester, 25% cotton, 25% rayon) fabric, which means that even though it is very lightweight it will endure many washes and only get softer over time.
This option is on the higher end in cost, so check out one of the other lightweight & soft options if you are trying to reduce your total cost.
Fit:
Slim Men's Fit