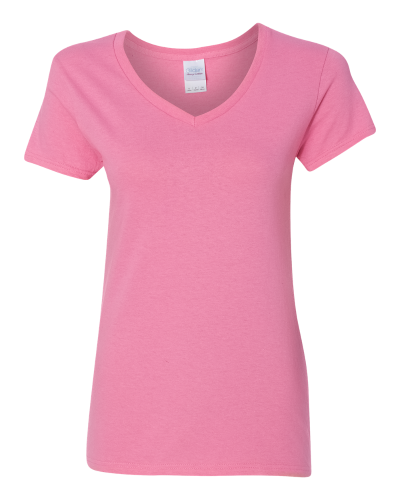 Gildan 100% Cotton Women's V-Neck – 5V00L
Color:
Pricing
---
*Note that pricing is estimated and needs to be confirmed after reviewing your art. CA residents pay sales tax and shipping costs are added unless you pick-up from us. Pricing per shirt is a bit higher for 2XL sizes and above.
Description
---
This basic 5.3 oz 100% cotton women's v-neck from Gildan has two advantages over the other styles in this category. First, it's the lowest cost option ideal for promotions or group events on a budget. Second, it's made of a midweight pre-shrunk cotton that will hold up better over time in the wash than the finer jersey 100% cotton alternate options in this category (that excludes lightweight poly/cotton blends though which are quite resilient compared to fine jersey cotton).
Fit:
Loose Women's Fit